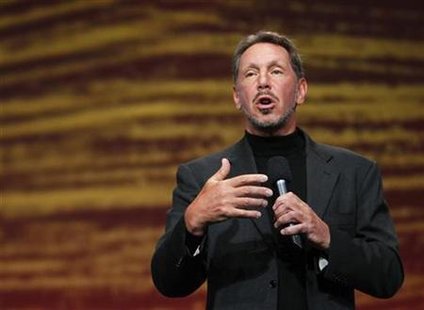 By Jim Finkle and Dan Levine
OAKLAND, California (Reuters) - Oracle Corp Chief Executive Larry Ellison will take the stand on Monday in his company's lawsuit against German arch-rival SAP for stealing software and costing Oracle billions of dollars of revenue.
Ellison has publicly vilified SAP, and has now shifted his attacks to include Hewlett-Packard Co, which recently hired former SAP CEO Leo Apotheker as its new chief.
Ellison has said he has evidence Apotheker was complicit in improper downloading of software by SAP's now-shuttered TomorrowNow subsidiary. HP has refused a subpoena for Apotheker to testify in the case, heightening the drama in the trial, which has enthralled Silicon Valley.
SAP has admitted that TomorrowNow wrongly downloaded millions of software files from Oracle's customer service website, but says Apotheker and other executives did not know of any wrongdoing when they bought TomorrowNow. They shut it down after they found out, SAP has said.
On Thursday, in a videotaped deposition played in court, former SAP executive board member Shai Agassi said Apotheker was one of two SAP executives put in charge of TomorrowNow after SAP acquired the company. Apotheker was responsible for sales efforts, Agassi said.
Charles Phillips, who was Oracle's president until this past September, told the jury on Thursday that Oracle would have charged SAP at least $3 billion to $4 billion to license the software that was supported by TomorrowNow.
SAP has accepted liability for TomorrowNow's actions. But SAP and Oracle disagree sharply on how much SAP should pay in damages, and that will be left to the jury to decide.
Oracle is seeking unspecified billions, while SAP's lawyers have put the damages at $40 million.
SAP, Europe's largest software maker, has agreed to pay Oracle $120 million in return for a promise by the U.S. company to not seek punitive damages, sources said on Wednesday.
Phillips, who is currently the CEO of privately held Infor, said the lawsuit sends an important message to the industry.
"There's sort of an honor among warriors here that we can compete fiercely, but we don't take each other's software," Phillips said.
An Oracle attorney said Thursday Ellison would take the stand on Monday, an appearance that could provide plenty of fireworks.
Ellison, Silicon Valley's richest person, has waited more than three years to bring SAP to court. A flamboyant figure, Ellison is famous for his public outbursts.
(Writing by Gabriel Madway; Editing by Derek Caney and Steve Orlofsky)