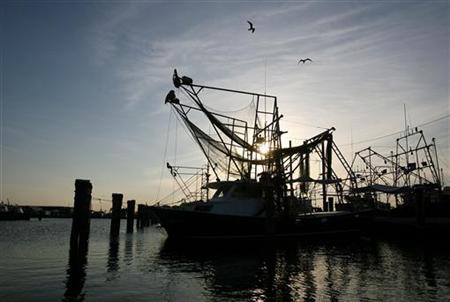 By Steve Gorman
COCODRIE, Louisiana (Reuters) - For part-time fisherman and deckhand Randy Arceneaux, this season was supposed to mark his first chance to trawl for shrimp with his very own boat.
And this was supposed to be the year he took his son out with him on the marshy backwaters of southern Louisiana's bayou country for the first time, to begin teaching the boy how to fish, catch crabs, hunt small game.
But a deep-sea wellhead owned by energy giant BP ruptured just weeks before the shrimp season was due to open, belching millions of gallons of crude oil into the Gulf of Mexico about 50 miles off Louisiana's coast.
The spill has prompted federal and state authorities to put much the Gulf Coast off limits to commercial fish, shrimp and oyster harvests. Here and there, the state has opened areas for fishing, only to close them again a day later.
And though little if any oil is known to have reached inland waterways in the first four weeks of the disaster, the fishermen believe it's only a matter of time before it does.
Once that happens, it may be years, even decades, before the marshes recover.
By then, a way of life for thousands in Louisiana's Cajun community -- descendants of French Acadian colonists who settled in the Gulf after the British expelled them from eastern Canada in the mid-18th century, will have disappeared.
"They're not only taking our income, they're taking our livelihood. They're taking the food straight out of our mouths, because the food we eat come out of this bayou," Arceneaux, 28, said, gesturing to the marsh from the back porch of the Harbor Light Marina.
'IF YOU COULD CATCH IT, YOU COULD EAT IT'
"I wanted to teach my son that bayou is going to feed him every day. But now I can't teach him that, because by the time the bayou is going to be good to fish in again, my son's going to be grown up," he said. His son is now 8 years old.
For Arceneaux, a man with broad shoulders, piercing eyes, a wispy beard and a thick Cajun accent, the timing of the spill was made more bitter because he was had looked forward to going out to catch shrimp this season in his own boat.
"My daddy gave me that boat in February," he said. "I've been painting it, getting it ready for the season, and now that's it's here, I can't go out."
Instead of earning as much as $2,000 or $3,000 a week catching shrimp, Arceneaux said he is earning a tenth of that doing odd jobs such as cutting up piles of scrap wooden pilings. He rolls up his pants leg to reveal red, scaly patches left on his skin from creosote burns.
And after initially joking about being a newly single man, Arceneaux confides that his financial predicament was what finished off his marriage as well.
He is quick to point out that he stands to lose more than his chief source of income and his family. At stake is the very food he eats.
In lean months, and especially during the off-season, many of the bayou's poorer inhabitants subsist by hunting and fishing, he explains. The only groceries he needs to purchase to go with the seafood or wild game he catches, Arceneaux says, is oil, flour, rice and beans.
"If you could at least come up with the money to buy that down here, you could live," he said.
"Just like the Indians lived by shooting bow and arrow, shooting deer, down this bayou we learn that shrimp's good, the oyster's good the fish is good. Basically everything in this water -- if you could catch it, you could eat it."
The bayou diet also consists of an assortment of meat from rabbits, ducks, raccoons, alligators, turtles, deer. "We eat it all," he said. "We live off the land. We don't live from a big, fat paycheck."
(Editing by Doina Chiacu)