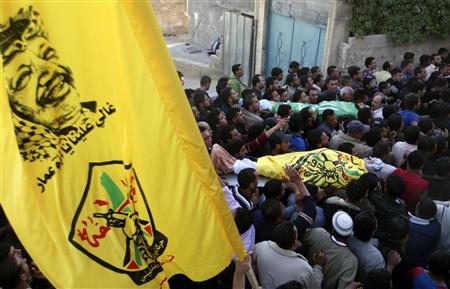 By Ali Sawafta
NABLUS, West Bank (Reuters) - Four Palestinians killed by Israeli forces in the West Bank were buried on Sunday following violence that has exacerbated growing tensions.
The Israeli army shot dead two 19-year-old men who it said had tried to stab a soldier on patrol near Nablus in the occupied West Bank. Two youths were also shot on Saturday.
Palestinian officials accused Israel of escalating tensions already running high over moves which Palestinians believe aim to deepen Israeli control over the territory.
Palestinian government spokesman Ghassan Khatib called for an independent investigation into the killing of cousins Mohammed Qawariq and Saleh Qawariq on Sunday, citing witness accounts they had been shot only after being arrested.
Mahmoud al-Aloul, a senior figure in the Fatah party led by Palestinian President Mahmoud Abbas, said they had been killed in "cold blood": "Nobody can imagine that we can stand with our hands tied vis-a-vis what is happening," Aloul told around 1,500 mourners at their funeral in Awarta, south of Nablus.
One of the bodies was wrapped in a yellow Fatah flag and the other in the green flag of the rival Hamas Islamist movement.
Abbas spokesman Nabil Abu Rdainah said Israel had responded to international efforts to revive peace talks "with more escalation" that thwarted attempts to get negotiations going.
Tensions in the West Bank and East Jerusalem have risen in recent weeks, with Palestinians staging more protests over Israeli policies they believe aim to retain land where the Palestinians want to establish a state. The United States is trying to relaunch peace negotiations between the two sides.
Many of the protests have turned violent, with Palestinians throwing rocks at soldiers who fire rubber bullets and tear gas.
This though was the bloodiest 24 hours for Palestinians in the West Bank for more than a year. Two youths killed by Israeli forces on Saturday were also buried in the nearby village of Iraq Burin, just a few kilometers (miles) from Awarta.
MEDICS SAY LIVE AMMUNITION USED
Palestinian medics said Mohammed Kaddous, 16, and Osaid Kaddous, 17, were killed by gunfire during a confrontation on Saturday between Israeli forces and Palestinian youths.
Ahmad Hammad, a Nablus doctor, showed a Reuters journalist a photograph of what he said was a bullet entry wound in Mohammed Kaddous's chest and an exit wound in his back.
Hamid al-Masri, a doctor who treated Osaid Kaddous, presented an X-ray which he said showed a metal bullet lodged in his brain.
The Israeli army, which said it was responding to people throwing stones, denied using live rounds, only rubber bullets.
Locals said the youths, who were not closely related despite their similar names, had not been taking part in the protest.
Villagers in Iraq Burin have been staging protests over Israeli-imposed restrictions on access to farmland that lies near the Jewish settlement of Har Bracha. Jewish residents there say they are anxious to expand their land holdings rapidly.
Palestinian Prime Minister Salam Fayyad strongly condemned "the Israeli military escalation" that had led to the four deaths, according to a statement issued by his office.
He warned that Israel was endangering the West Bank stability which his administration has sought to build.
(Additional reporting by Ori Lewis in Jerusalem and Erika Solomon in Ramallah; Writing by Tom Perry; editing by Alastair Macdonald and Jon Hemming)