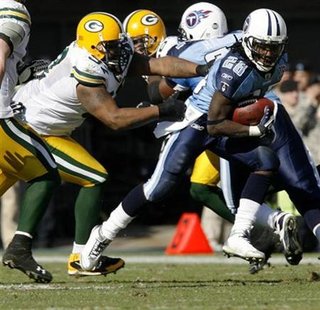 CHICAGO (Reuters) - Green Bay Packers defensive end Johnny Jolly has been suspended indefinitely without pay for violating the NFL substance abuse policy, the league said Friday.
Jolly's suspension begins immediately and will continue through at least the 2010 season, the league said on its website (http://www.nfl.com). He will be eligible to apply for reinstatement following Super Bowl XLV in February.
Jolly is facing a 2008 felony drug possession charge in Houston, Green Bay media reported.
The Packers said in a statement, "Our thoughts are with him during this difficult personal time."
(Writing by Gene Cherry in Raleigh, North Carolina; Editing by Steve Ginsburg)