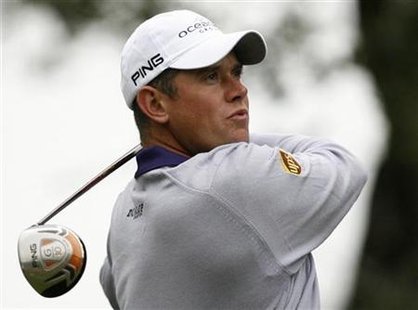 By Bernie McGuire
ABU DHABI (Reuters) - World number four Lee Westwood received the European Tour Players' Player of the Year award on Wednesday, the eve of his first appearance of 2010 at the Abu Dhabi Championship.
The 36-year-old Briton became the second winner of the trophy that was first handed out to Ireland's Padraig Harrington in 2008.
Westwood struck a rich vein of form at the end of last year, winning the Portugal Masters and capturing the inaugural Dubai World Championship to clinch top spot in the final European money list.
"It was obviously a good year last year as I also got an award from the press writers and various other awards," he told reporters.
"But to be voted the Players' Player by the people you play with day in day out, week in week out and who know best what you go through emotionally when you are under pressure obviously means a lot."
Westwood avoided snowbound Britain this month to work on his game in Barbados.
"My goal this year is to contend in the majors again and hopefully win one of them," said the Englishman.
BRITISH OPEN
"I feel like I should have won the British Open last year but didn't so I learnt a few things from that."
Westwood finished one stroke short of the Turnberry playoff won by Stewart Cink against his fellow American Tom Watson.
"The more often you get into situations like that I feel more comfortable and I'm also getting to the stage now where I should be in that position in most majors," said Westwood.
"Winning the money list, there's not many more places to go from there other than I suppose winning it more times. But it is the majors where I can improve the most because I haven't won one and that's everybody's goal."
Westwood will play the opening two rounds in Abu Dhabi alongside Australia's Geoff Ogilvy and holder Paul Casey.
World number eight Casey was sidelined by a rib injury for more than two months last year but said he was almost back to full fitness.
"I think I'm 95 percent and there's no pain in the ribs where I tore the muscles," said the Briton.
"I actually got tired yesterday because the rough is very thick on the course this week and I don't quite have the full range of motion I'd like.
"The body has attuned itself slightly to what I did to myself last year. I am still trying to get the range of motion and breakaway so I am unable to swing a golf club like I was this time last year but it's still good enough to get it airborne," added Casey.
(Editing by Tony Jimenez)