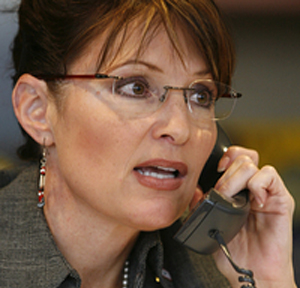 WAUSAU, Wis. (WTAQ) - Sarah Palin wants her supporters to give campaign money to a northern Wisconsin Republican in order to, "unseat the author of the stimulus bill." On Facebook Wednesday, the former vice presidential candidate endorsed Ashland County DA Sean Duffy – one of two Republicans running against Democratic incumbent David Obey of Wausau. Palin wrote a column about the one-year anniversary of the federal stimulus package. And near the end of it, she called Duffy a "brave soul" to take on, "a liberal Goliath who's been in Congress over 40 years." She did not mention Obey by name, but she said a vote for Duffy would, "send a message to the big spenders in Washington."
Obey wrote much of the $787 billion stimulus package. And he said Wednesday it provided tax cuts to the middle class, kept local teachers and police on the job, and made key investments that should spur job growth for years to come. He said the stimulus "softened the landing" of the recession, and there's still a long way to go.
Meanwhile, Palin did what many political heavyweights don't often do – endorse a primary candidate in their own party. Before he can face Obey, Duffy must first defeat Rudolph farmer Dan Mielke – who got almost 40 percent of the vote against Obey in the last election in 2008. Palin's column mentioned nothing about the primary – or why she chose Duffy over Mielke. But Duffy won't complain, saying it will give him credibility and a fundraising boost.