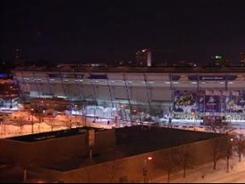 MINNEAPOLIS, Minn. (WTAQ) - The roof at the Minneapolis Metrodome has collapsed under the weight of heavy snow.
The damage to the stadium, operated by the Metropolitan Sports Facilities Commission, is being assessed Sunday morning according to Executive Director Bill Lester.
Lester says the agency will issue a statement later. He says he has no details yet on what happened. No injuries have been reported.
The Twin Cities, along with much of the upper Midwest, have been hit by a blizzard that has dumped up to 20 inches of snow.
Sunday's game between the Vikings and New York Giants had been postponed until Monday, when the game will be played at Detroit's Ford Field.
FOX Sports is reporting Ford Field will play host to the Minnesota Vikings-New York Giants game, kickoff is set for 7:20 p.m.
It's the first Monday night game in the history of Ford Field and will be shown regionally on FOX and on DirecTV for Sunday Ticket subscribers.
WATCH FOX SPORTS VIDEO OF THE ROOF COLLAPSE AT THE METRODOME