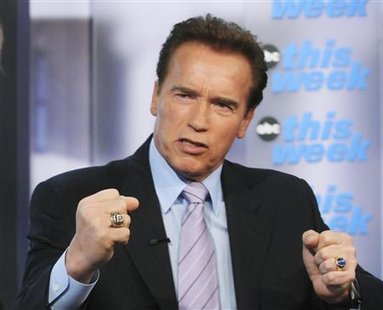 SAN FRANCISCO (Reuters) - California's governor and attorney general on Friday separately urged a federal judge to lift the state's ban on gay marriages pending an appeal of his ruling finding it unconstitutional.
U.S. District Court Chief Judge Vaughn Walker's decision on Wednesday marked a legal and symbolic victory for the gay rights movement, although most believe the fight over same-sex marriage will ultimately be decided by the U.S. Supreme Court.
Schwarzenegger's office, in a document filed with the U.S. District Court for the Northern District of California, said it "believes the public interest is best served by permitting the Court's judgment to go into effect, thereby restoring the right of same-sex couples to marry in California."
"As the Court has pointed out, California has already issued 18,000 marriage licenses to same-sex couples without suffering any resulting harm," Schwarzenegger's office said in the filing. "Government officials can resume issuing such licenses without administrative delay or difficulty."
Walker's decision had no bearing on gay and lesbian couples legally wed in California from June 2008, when a state Supreme Court ruling overturned an earlier ban, and November 2008, when voters approved Proposition 8, a state constitutional amendment defining marriage as between a man and a woman.
Attorney General Jerry Brown's office said in its document filed with the District Court that the public interest weighs against Proposition 8's continued enforcement.
Walker issued a strongly worded decision against the state law but allowed it to remain in place at least temporarily until he decides on a request by its supporters to keep it intact as the case moves to the U.S. Ninth Circuit Court of Appeals.
(Reporting by Jim Christie; editing by Dan Whitcomb and Jerry Norton)