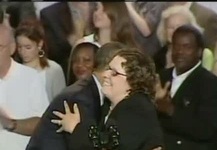 GREEN BAY (WSAU) A Green Bay area woman who's fighting breast cancer will be in the audience tonight, when President Obama speaks to Congress about health care reform. 36-year-old Laura Klitzka of Hobart introduced Obama when he spoke on the subject in Green Bay earlier this year. She expressed fears about keeping up with her future medical bills. And the president made her an example of why health reform needs to be done.
Klitzka says she's excited to be a witness to history during tonight's joint session on Capitol Hill.
The White House says the president will be more aggressive in pushing for exact elements of the health package, at a time when top congressional Democrats are talking about scrapping a government insurance option to compete with private plans. A senior administration official says Obama will not abandon the public option. And he'll frame it as quote, "the best mechanism but not the only mechanism."
Obama's address begins at 7pm CT. You will hear it on WSAU AM 550 AND FM 99.9.