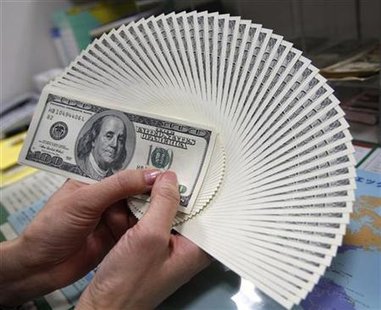 By James B. Kelleher
CHICAGO (Reuters) - A trade group for the lenders that finance half the capital equipment investment in the United States said on Tuesday the sharp pullback in business borrowing that marked the recent downturn moderated markedly in November -- an encouraging sign companies may be growing more confident in the sustainability of the recovery.
The Equipment Leasing and Finance Association told Reuters its capex financing index, which measures the overall volume of financings used to fund equipment acquisitions, fell to $4 billion in November, down 7 percent from last November.
It was another in a series of declines in the index. But it was also the smallest year-over-year decline this year and was hailed by ELFA's head as a possible evidence companies may be inching toward the confidence they need to begin investing in their business again.
"November's origination number is a dramatic improvement over the prior month," said Ralph Petta, ELFA's interim president.
"While by no means robust, demand for capital equipment seems to picking up. We are hopeful that this trend continues as the overall economy rebounds."
ELFA's data on credit approvals was more mixed. The group said that 67.2 percent of applicants got the green light from lenders in November, down from 69.2 percent last year, but up from 65.6 percent in October.
But other metrics tracked by ELFA suggested that businesses were still struggling to service existing financings.
The group said the percentage of borrowers delinquent 30 days or more on their capex loans, leases or lines of credit rose to 4.5 percent in November, up from 3.9 percent last year and 4.2 percent in October.
Charge-offs as a percentage of all receivables rose to 2.4 percent in November, up from 1.45 percent last year and 1.7 percent in October.
ELFA's report, provided to Reuters a day ahead of its official release, came on the same day the U.S. Commerce Department said the economy grew at a slower rate than originally thought in the third quarter, restrained by weak business investment and a slightly more aggressive liquidation of inventories.
ELFA's monthly report will be published officially on Tuesday. ELFA's members include Bank of America Corp, Canon Financial Services, Caterpillar Financial Services Corp, CIT Group Inc, Dell Financial Services, John DeereCredit Corp, Siemens Financial Services and Verizon Capital Corp.
More than half the money invested in plants, equipment and software in the United States in any given year is financed with loans, leases and lines of credit.
(Reporting by James B. Kelleher; editing by Andre Grenon)