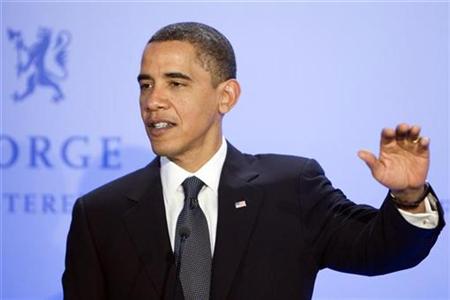 WASHINGTON (Reuters) - U.S. business groups widely expect President Barack Obama to formally notify Congress as early as Monday of his intention to negotiate a regional free trade agreement with countries in the Asia Pacific.
Obama, in his first major trade initiative since taking office, announced last month in Tokyo that the United States would negotiate to join the Transpacific Partnership (TPP), a regional free trade agreement that already includes Chile, Singapore, New Zealand and Brunei.
The United States sees the talks as a chance "to set the standard for 21st-century trade agreements going forward," U.S. Trade Representative Ron Kirk said.
Australia, Peru and Vietnam also want membership in the agreement, which supporters say will help ensure that the United States is not left out of regional trading arrangements in one of the most dynamic regions of the world.
"The first round will ostensibly start March 15 in Australia ... We expect the U.S. will be there and we're looking forward to it," said Chuck Dittrich, vice president for regional trade initiatives at the National Foreign Trade Council, told reporters on Friday at a briefing with other business executives.
The business officials said the Obama administration has been intent on following so-called "fast track" legislative procedures for consulting with Congress on trade negotiations, even though that law expired several years ago.
When it was in force, fast track allowed the White House to negotiate trade agreements that it could submit to Congress for a straight-or-up down vote without any amendments.
It also required the president to give Congress 90 days notice before entering into trade talks.
That timetable, combined with the March 15 date set for the start of the TPP talks, has fueled the expectation that Obama would send lawmakers a formal letter early this week laying out the administration's plans for the negotiation.
(Reporting by Doug Palmer; Editing by Jackie Frank)