« back to Movies
Apes Double Feature
Release Date: July 10, 2014
Genres: Program, Action/Adventure
RISE to the challenge - and experience the new DAWN - with a special "Apes" double feature on Thursday, July 10. See RISE OF THE PLANET OF THE APES at 7pm and then be among the first to see DAWN OF THE PLANET OF THE APES, in 3D, all for one price. Both films are rated PG-13.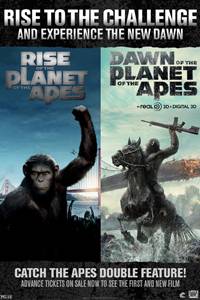 Show Times / Buy Tickets
There are no current showings for Apes Double Feature in this area.