« back to Movies
Life of Pi 3D
Release Date: Nov. 21, 2012
Genres: Drama, Action/Adventure
Cast: Suraj Sharma, Irrfan Khan, Gérard Depardieu, Tabu, Ayush Tandon, Adil Hussain
Directors: Ang Lee
Official Site: http://www.lifeofpimovie.com
Distributor: 20th Century Fox
A 16 year-old Indian boy's passage to a new life in America aboard a freighter ends in a shipwreck in the Pacific. He is left to fend for himself on a life raft with an orangutan, a zebra, a hyena and a Bengal tiger. In 3D at select locations.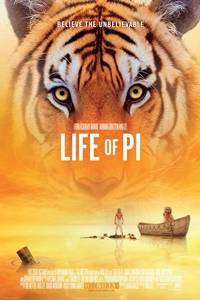 Show Times / Buy Tickets
There are no current showings for Life of Pi 3D in this area.