« back to Movies
The Twilight Saga: Breaking Dawn - Part 2
Release Date: Nov. 16, 2012
Genres: Drama, SciFi/Fantasy, Romance
Cast: Kristen Stewart, Robert Pattinson, Taylor Lautner, Peter Facinelli, Elizabeth Reaser, Ashley Greene, Jackson Rathbone, Kellan Lutz, Nikki Reed, Billy Burke
Directors: Bill Condon
Official Site: http://www.breakingdawn-themovie.com/
Distributor: Lionsgate/Summit Entertainment
Brought back from near-death by Edward after childbirth, Bella begins her new life as a vampire and mother to their daughter, Renesmee. When the Volturi are led to believe that Renesmee was not born as a vampire but, rather, turned into one in violation of their code, the Volturi set out to destroy the child and the Cullen clan. The Cullens band together with vampires from around the world to stand united against the Volturi.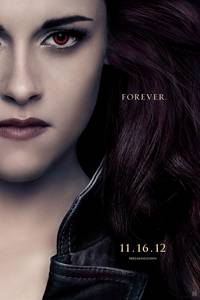 Show Times / Buy Tickets
There are no current showings for The Twilight Saga: Breaking Dawn - Part 2 in this area.