Advertise With US
Web Products
We have what you need to boost sales and get customers flowing in through the door. Feel free to browse our selection of various web products. For more information about pricing on these and other great products please fill out our Advertising Contact Form.
Campaign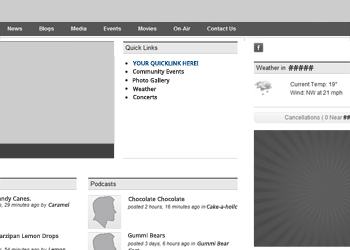 Think of our site as a highway of information. We have thousands of people travel through our sites each month; envision a quick link as an exit ramp for us to help direct traffic to your promotion or site.
What You Receive
Link that will click-thru to your website or landing page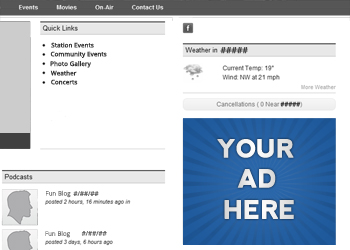 Thousands of dedicated listeners interact with our sites each month. Allow our team of professional graphic designers create a personalized display ad for your client that will rotate evenly throughout the website.
What You Receive
300 x 250 Medium Rectangle Ad
Click-thru to your website
Sponsorship Opportunities
Streaming Opportunities
Internet radio accessed through Listen Live icons that can be located on participating station's homepages. Due to a national agreement, commercials are unable to be automatically be duplicated from on-air to the stream.

What You Receive

A :30 or :60 Audio Ad with 300x250 Display Logo and Click Through

:15-:30 video commercial to play before audio can be accessed by listeners. Video cannot be skipped nor muted.

What You Receive

:15 Video ad to play before stream
Fixed 728x90 banner on player with click-thru
100 spots per month

:15-:30 video commercial to play before audio can be accessed by listeners. Video cannot be skipped nor muted.

What You Receive

:15 Video ad to play before stream
1 of 4 non-compete sponsors
Texting Opportunities
Text 2 Win

Listeners can text a custom code to enter a contest.

What You Receive

(Winner can be selected by 1 of 4 options below)

First N number of entries win
This allows users to keep entering in and once they hit a certain number a winner is notified. Each entry receives a confirmation message stating either "keep trying", "congratulations you're a winner", or "thanks for playing but we have a winner."
Winner(s) randomly selected at end
This allows three types of messages sent to the user. The first is the bounceback message that is sent to notify them for joining the contest. The second is a non-winner message to all that have not won. The third is the winners message.
The Nth entry wins
This would be when users enter and a winner is chosen after the Nth number of entries. Similar to "the 10th caller wins." One winner awarded.
Manual Winner
This would be chosen manually by the staff and then contacted.

Texting Keyword

Your business will choose which "keyword" it wants to use…IE: "Pizza, Sports, Wausau" etc, and listeners will then be told through your advertising that by texting your keyword to "31011" they can receive coupons, special offers and events via text from your business! (Up to 5 p/month)

What You Receive

Custom Texting Keyword (IE: Taco)
4-6 Special Offer or Event Based Texts Sent Out Each Month to Listeners
Listing on Station Website Promoting Selected Keyword